Prioritize winning concepts - fast
Every year hundreds of millions of dollars are spent developing products that don't reach the market or fail to meet sales targets. With less than one commercial success from every 100 concepts tested, identifying which ideas are potential winners, early on, is crucial.
eValuateNow is a concept screening solution based on Kantar TNS's extensive innovation experience. With validated predictive measures, it allows you to identify the concepts with potential to succeed in market and drive top-line growth.
eValuateNow shows how well an idea performs against the eValuate 8 point diagnostic framework giving you insight to guide concept optimisation. Its individual modelling approach improves the accuracy of growth projections by up to 100% versus aggregate models.
eValuateNow is available for CPG/FMCG only.
Category:
Product innovation
Countries available:
Australia, Brazil, Canada, France, Germany, Italy, Mexico, Netherlands, Spain, United Kingdom, United States
Get Started
KPI Summary
Concept classification
Market potential (trial)
Growth potential (incremental trial)
Purchase intention
Uniqueness
Price value
Relevance
Clarity
Believability
Appeal
Excitement
All scores benchmarked against Kantar TNS's extensive new product database.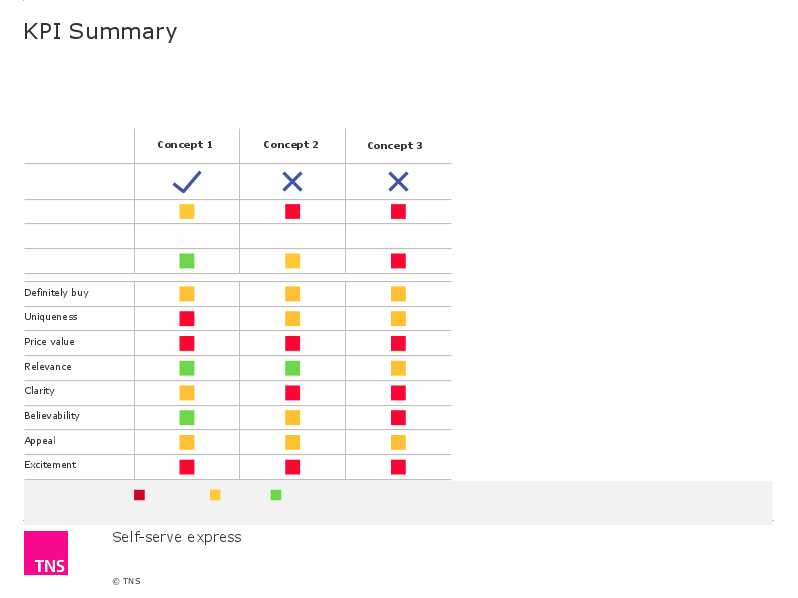 KPI Summary
Results at a glance across key performance indicators and diagnostic measures. Traffic light coding benchmarks results for each concept against the Kantar TNS database to identify strengths and weaknesses.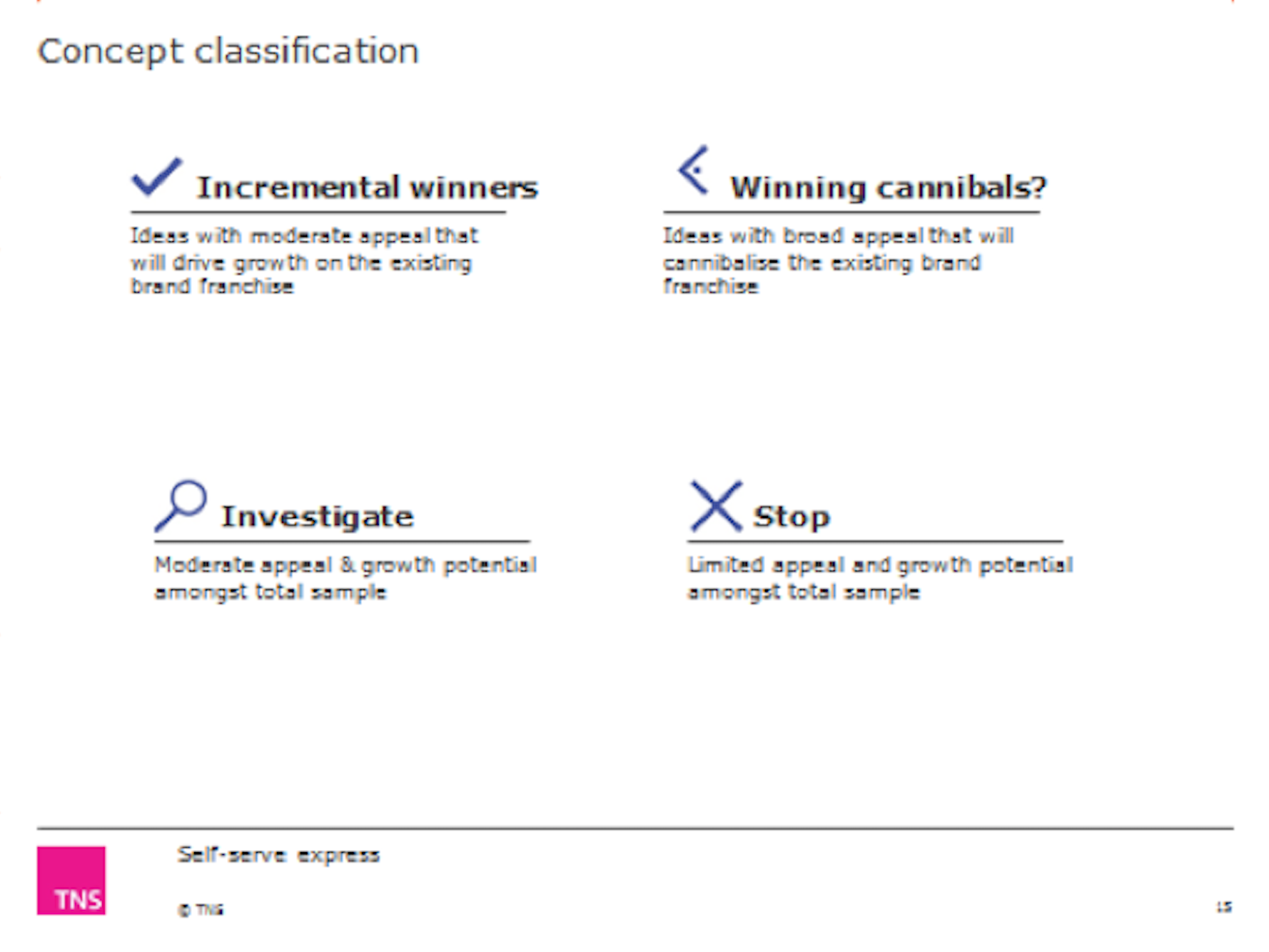 Concept classification
Concepts are classified into four types based on how it has performed to support rapid next steps decision making.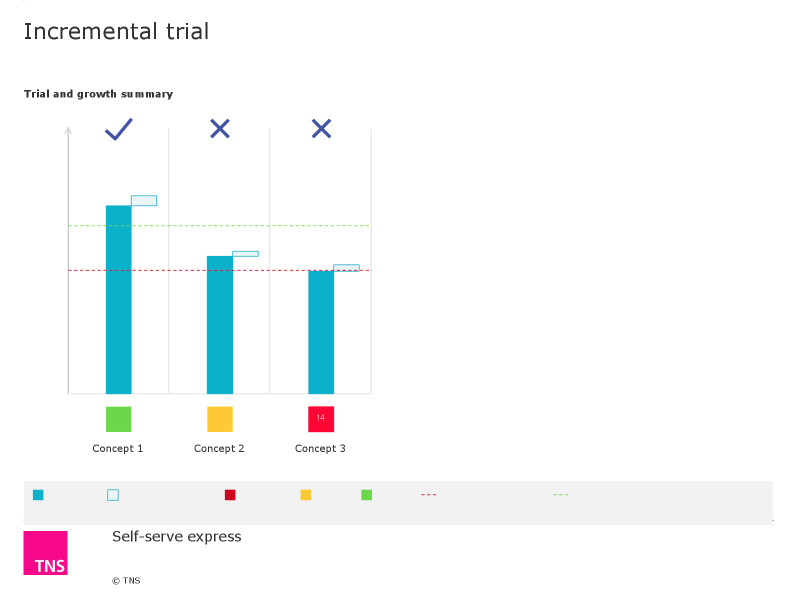 Trial and incremental trial
Growth potential = market potential – cannibalisation of existing business
Traditional concept screening approaches use outdated metrics that focus on market potential and ignore or pay lip-service to growth potential.
eValuateNow highlights overall market potential (trial), as well as cannibalisation of the concept's parent brand to establish the real growth potential (incremental trial). Kantar TNS's unique individual-level modelling is proven to predict growth potential with double the accuracy of traditional aggregate modelling approaches.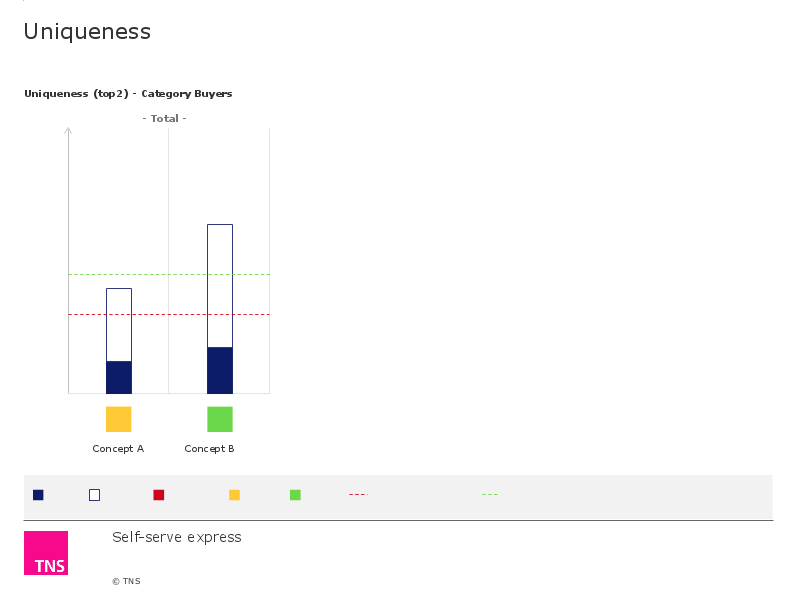 eValuate diagnostic framework
Each concept is assessed against the eValuate 8 point diagnostic framework (purchase intention, uniqueness, value, relevance, clarity, believability, appeal and excitement) to provide understanding and insight to guide concept optimisation. Comparisons against the Kantar TNS category benchmark show your concepts' potential in context.
We keep our prices low by automating the entire research process from sample to survey.
While there is a basic price for each of our different research applications, you can customise your research project by changing the number and demographic of the people taking your survey.
Chat online
Get an instant answer.
Call ZappiStore
If you have a question, speak to a member of our team.